Bluefish are often caught while fishing for striped bass.
When fishing for striped bass you often also encounter bluefish. Some fishermen like catching bluefish, while others think that bluefish interfere with their catching stripers. I like catching bluefish. They are good fighters, and contrary to what some say, they are good eating if you cook them fresh, especially the smaller ones.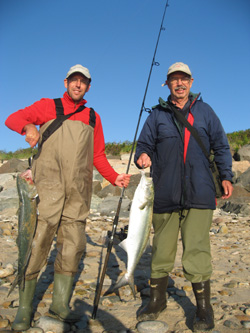 Two Nice Bluefish
link to larger image
In New Jersey, the bluefish show up in the spring around early May, and they stay all summer long and into October. Another good thing about bluefish is that you can often catch them during the day; even in the summer. However, early morning and at dusk are the best times to catch bluefish.
I find that the best bait for bluefish is mackerel in the spring, mullet in the fall, and bunker whenever you can get it. Bluefish will eat most baitfish that stripers like. However, they don't often bother with clams, while stripers love clams. Follow this link to see suggestions on rigging mullet to catch bluefish: mullet rigging.
You can catch bluefish throwing metal lures almost anytime. Retrive them fast, slow is for stripers. In the spring white bucktails with a white curly tail, or pork rind trailer work great for catching bluefish in the inlets.
Bluefish
In the fall, during the striper migration, bluefish are often mixed in with blitzing stripers. When you cast out into the feeding frenzy, you might catch a bluefish or a striper. The bluefish shown on the right was caught on a Bomber Wind Cheater lure intended for a striped bass.
Follow this link to see: Wind Cheater Lures on Amazon.com
Bluefish are clumsy feeders, chopping chunks out of baitfish, usually out of the latter half. The scraps, including the heads that are leftover, sink to the bottom where striped bass may be waiting for them. This
is why bunker heads are one of the best baits for catching striped bass.
To avoid cut-offs when bluefish are around, use a short heavy monofilament or a wire leader. The leader also gives you something to grab as you are landing the fish. This is very important if you are using a thin line, like braid, that can cut your hand.
Lures with single hooks are preferred, as it is easier to unhook bluefish if the lure has a single hook. I generally replace any treble hooks on my metal lures with single hooks, as I often catch bluefish on the metal lures even if fishing for stripers.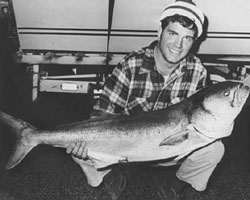 James Hussey and his
World Record Bluefish
Bluefish have sharp teeth. Be extra careful when unhooking them. Always use pliers; never your fingers.
Bluefish can also be caught on flies. Bendback flies, which have long shanks, are a good choice.
Most bluefish that you catch will be less than 10 pounds and rarely over 20 pounds. The North American record bluefish caught at Cape Hatteras, North Carolina by James M. Hussey in 1972, weighed 31 pounds 12 ounces. The Massachusetts record bluefish, landed at Graves Light in 1982, weighed 27 pounds 4 ounces.
Young bluefish are called snappers, and are found in many estuaries and along beaches during the summer. They can easily be caught using a light rod and a very small metal lure. Snapping blues are good striped-bass bait. They are also a good Fluke bait.
---