Bass Flies
Top Left -- Deceiver    Top Right -- Wooly Bugger
Bottom Left -- Clouser    Bottom Right -- Popper
Follow this link to see: Bass and Panfish Flies on Amazon.com
---
It is great fun to catch largemouth bass on a fly rod. Four of our favorite Bass Flies are shown above.
Lefty Kreh designed the Deceiver fly in the 1960s, intending it to be used for catching striped bass in the Chesapeake Bay. The Deceiver fly is a streamer fly with a minnow-like silhouette and any fish that likes to feed on minnows will take a well presented Deceiver fly. We have caught numerous Largemouth Bass on Deceiver Flies in the small ponds and lakes in Southern NJ.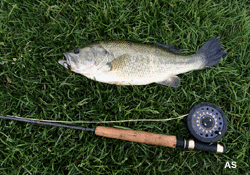 Largemouth Bass Caught
on a Wooly Bugger Fly
Link to larger image
At a fly tying demonstration at the Sportsmans Center in Bordentown NJ, I asked Enrico Puglisi if he could tie me a fly to catch largemouth bass. He said why not use a Wooly Bugger, the Wooly Bugger is a great bass fly. I tried it, it worked. He was right. See a Largemouth bass caught on a Wooly Bugger at the right.
The Clouser Deep Minnow Fly was originally designed by Bob Clouser to catch smallmouth bass in the Susquehanna River. Bob wanted a fly that dove down during the pause in the retrieve. Would this fly also catch largemouth bass? Lefty Kreh claims to have caught 87 species of game fish on Clouser Deep Minnow flies, including Largemouth Bass.
A friend of mine works on a golf course that has 5 ponds, all of which are populated by largemouth bass. In his off hours he sometimes fishes for the bass with a fly rod. His favorite fly for catching these bass is a popper.
More Bass Flies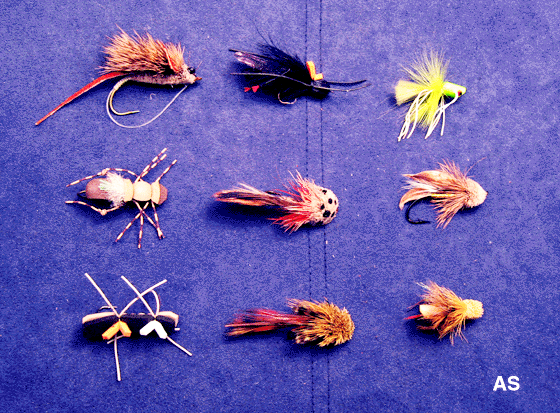 Deer Hair Bass Bugs are popular and effective flies for catching Lrgemouth Bass. A few examples are shown in the above photo.
---